Bathroom Remodeling Near Portsmouth, ME and Rockingham County
Besides basic functionality, is your bathroom meeting all your needs? Things like increased shower size and floor space can make a world of difference in your bathroom. At Oxland Builders, we pride ourselves on designing and building functional, creative bathrooms for any budget.

In our opinion, there's no need to sacrifice convenience when you could experience an affordable bathroom makeover. We offer new bathroom construction, as well as complete remodeling services for existing baths.
Bathroom Renovation Services Offered
Whether your current bathroom needs to be expanded or you're looking to install a second or third bathroom in your home, our team at Oxland can get the job done. We've completed full gut renovations of bathrooms as well as large master bath additions. Our staff of licensed remodeling professionals ensures that you'll always receive top-quality service and beautifully finished construction.
NH Bathroom Remodeling Costs- Portsmouth and Seacoast Area
Every bathroom renovation varies from person to person. As we all have different lifestyles, wants, and needs this makes cost difficult to determine. Are you going with spa-like shower fixtures? Stone and quartz counters? A recessed shower niche? This all depends on the family and the goal of your remodel. However, you can discover detailed bathroom remodeling costs, but a rough estimate would be starting at $15,000 to over $50,000 dependent on the features included in your project.
How to Save Money on Your Bathroom Remodel
While it's impossible to predict all of the bathroom remodeling costs in New Hampshire up front, working with a seasoned Design Build renovator can save you a lot of money! We are estimation experts, and we plan your bathroom makeover from the beginning with your total budget in mind. When you work with Oxland Builders, you'll receive the design and features you want without the price tag that comes with hiring a separate bathroom designer and general contractor.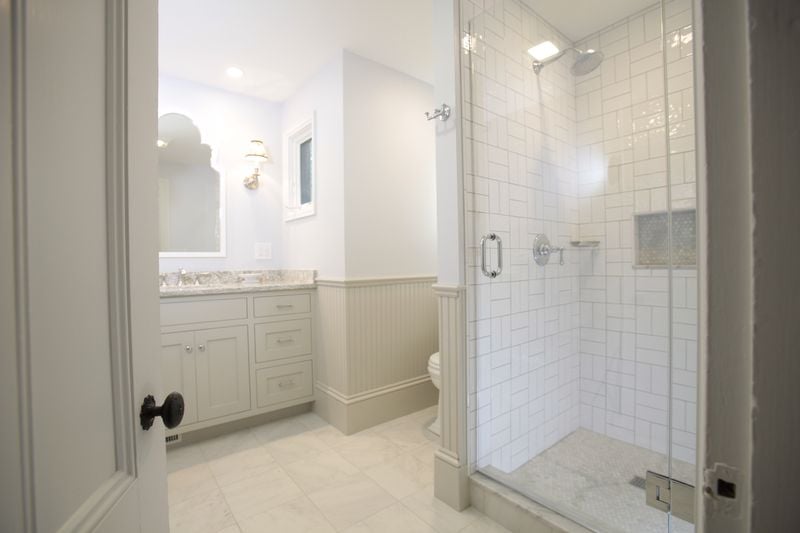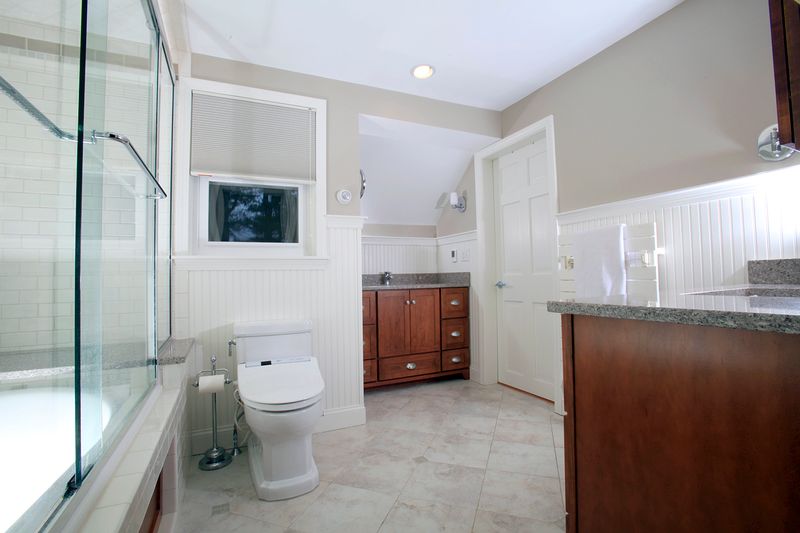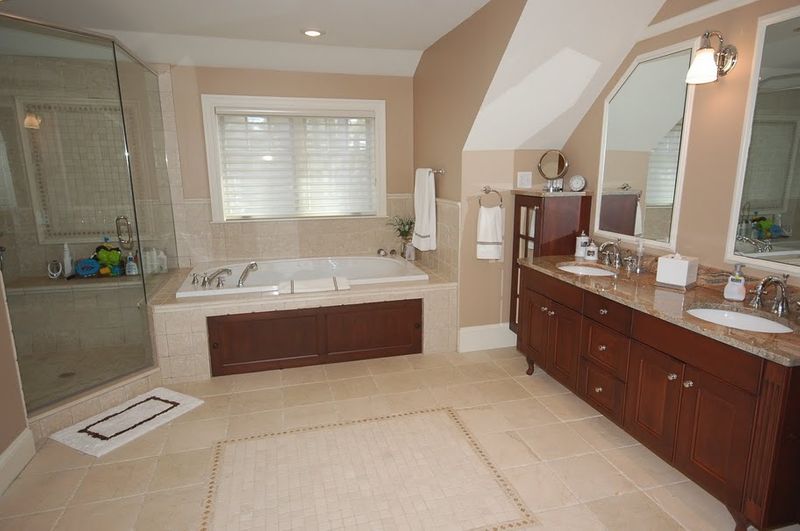 Bathroom Remodeling Ideas: 5 Features to Update
1. Bathroom Fixtures
Fixture is a simple word for just about all the important, permanent parts of your bathroom. Your tub, toilet, and sink are the big ones, and the placement of those is largely dictated by your existing plumbing. There are plenty of style options for all of these, including eco-friendly options like dual-flushing toilets.
Beyond permanent features, aesthetic fixtures can add great value and style to your new bathroom. It really pays to invest in quality fixtures, especially in the event of future resale.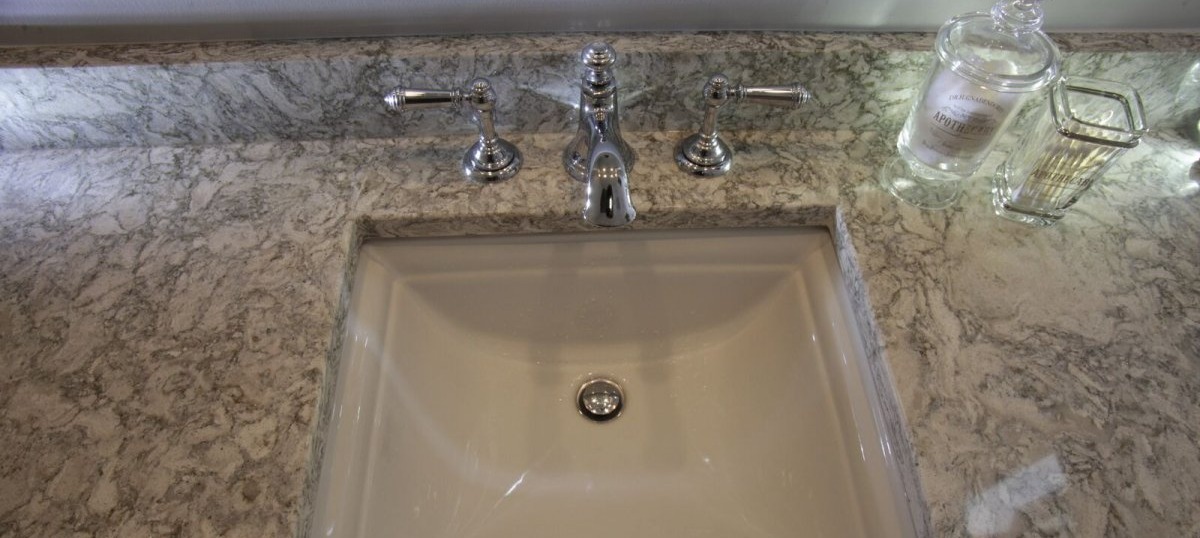 Common fixtures include:
Doorknobs
Cabinet handles
Sink hardware
Mounted mirrors
Lighting fixtures
Showerheads
2. Flooring
Here's a pro remodeling insight, on the house: Because the bathroom is its own space, you can get away with installing great flooring that stands alone, rather than matching other areas of the house! And, because bathrooms are smaller spaces, you can have superior quality flooring installed for much less than the cost for a full-sized room!
Attractive linoleums and stone tiles are popular options. Consider your style and function goals for the new bathroom, and take a look at all the incredible options available!
3. Shower or Soaker Tub
Depending on your purposes and layout, you might choose to install a combination shower/tub or just a standup shower. Relaxing soaker tubs are a big trend in bathroom renovations, especially in Portsmouth. Whatever you choose, be sure to plan ahead for future buyers, rather than just settling for what you can "go without."
Just because you'd be fine with a narrow standing shower, doesn't mean the next buyer will be as keen. Your goal in bathroom renovation is, in part, to increase overall home value. Keep that in mind, and you'll be all set!
4. Lighting and Windows
Lighting options for bathrooms have exploded with recent building trends. With functionality and style working hand in hand, your options for creating a bright and stylish space are virtually limitless! You might consider installing a shower spotlight overhead, or even a skylight in eligible bathrooms. The area lighting is also common for larger bathrooms, as are dimmer switches.
5. Storage and Vanity Space
Storage includes everything from cabinets to closets. When it comes to planning for the perfect multipurpose bathroom, it pays to think "inside the box." Who will be using the bathroom most? If it's you, think in terms of multi-purpose. You might want a handy closet for your vacuum or ironing board. Is it a guest bathroom, or will your kids be using it the most? You may want to include low cubbies, or towel fixtures reachable at all heights.
Licensed Bathroom Remodelers near Hampton, New Hampshire?
Our staff has undergone extensive training to obtain contracting licenses. We pride ourselves on seeking out ongoing training in the building industry. This provides our team with an ever-expanding knowledge base they can apply to any given project. Contact us today for a consultation!
Our Building and Remodeling Service Area
We remodel and build homes in Southern Maine, Northern Massachusetts and Rockingham County, New Hampshire. Our service area includes but is not limited to:
Exter
Stratham
Portsmouth
Rye Beach
New Castle
Hampton
In fact, you've probably seen our trucks throughout our service area. Whether you want to renovate the kitchen in your house, build a custom home on your lot, or add a few bedrooms to your vacation cottage, we'll help you consider all the possibilities.
Not sure if your town is in our service area? Reach out to us here and we'll let you know if we remodel or build in your New England town.