What is a Design Build Firm?
A design build firm is a construction company that uses an integrated approach that delivers design and construction services under one contract with a single point of responsibility. This minimizes the risks for the project owner and shrinks the time needed to complete a project by overlapping the design and construction phases of a project.
At Oxland Builders, we have created a consistent and efficient process for our Design Build Projects. We implement a 6-week design and planning process for each client, so their remodel or custom home build meets our expected goals each and every time. Following this process for each project affords us the ability to make sure no detail is missed. Keep reading for more reasons we use this method of construction.
Benefits of Using Our Design Build Method
We have found that it allows us to help shape the budget while keeping in mind the construction process that will have to follow the design.
It also allows us to be more proactive about potential issues or pre-existing conditions within an existing home we would be working on.
We involve any licensed or specialty trades much earlier in the process than normal.
Most importantly, it allows the project to be designed with a specific budget in mind.
A Note About Design Build Costs
More often than not, projects get designed only to discover that the cost to build is more than the client thought it would be or, even worse, can afford. Most clients get attached to a project while in the design process, and it can be disappointing and frustrating to find out the cost is over the perceived budget. There are a lot of influences in the marketplace that drive one's perception of the cost of any given project—such as displays at home improvement stores, a project at a friend or neighbor's house, or any number of DIY programming on television. While these outlets may provide a sense of the cost of one specific item in one project or perhaps the total cost of another project, many factors can drive the final cost of your project that may vary greatly from others.
Budgeting and Partnerships for Your Project
From the beginning of your project, we will have continuous conversations about your anticipated budget. It is important to note that when we discuss your budget, that does not include the Design fees accrued thru the Design Process. The Design Process fees can range between 1-3% of your anticipated project budget, which can be found on your Design Development Agreement. Depending on the scope of work, Oxland Builders will use subcontractors for certain areas of your project. We are partners with these subcontractors because they have the same passion and drive for completing jobs as we do. We monitor and communicate with all subcontractors regarding the scope of work and detail.
Our Design/Build 6-Week Process
The first two weeks of your project is the design phase. We work closely with the client to discover their desires as well as their needs. The initial meeting is most often at the client's house. If we are remodeling an existing space, it is helpful to be in the space while discussing what it is they do and don't like about it. We use sketches and photos to help get the ball rolling. We will talk about the budget during this part of the process, but the range is usually much broader as the "finish" products still haven't been discussed, and those can account for 30% – 40% of a project's total cost.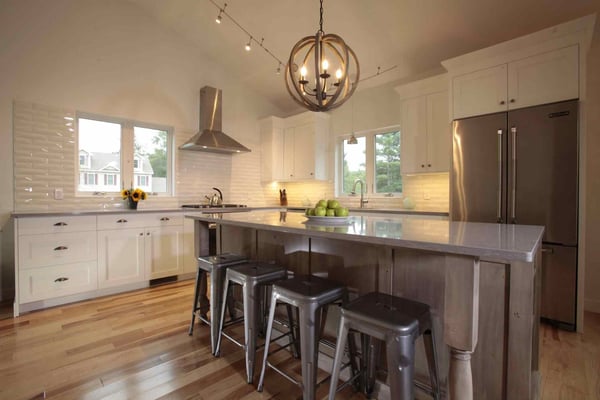 We will discuss the layout of the space and any interior features that may be necessary to include in the design, like vaulted ceilings, exits to the exterior, or any feature that will need to be included in the construction documents. We will select items like windows and doors, exterior details if necessary, and any larger items that may be a design feature like a deck or a porch.

Once we get the design to a point where the homeowner is confident that all of their needs are accounted for, the construction documents can then be prepared. Producing construction documents is fairly straightforward and doesn't require a lot of input from the homeowner. This is where the design turns into a set of plans that can be built. Of course, questions always do pop up, and this is where the design-build method helps: the team as a whole can be involved in any changes or decisions and can also reveal what kind of impact that may have on the budget.
While the construction documents are being prepared, we enter weeks three and four, where scope development can begin. Scope development is where the tires hit the road. This is when all of the "finish" products in a project get selected. Everything ranges from interior trim details, cabinetry design, flooring and tile selection, plumbing fixtures, paint colors, and even door knobs.

Scope development is where the budget really gets shaped. Again, the finished products that get installed in most projects can account for 30% – 40% of a project's total costs. It is very easy for a $35,000 bath remodel to become a $45,000 bath remodel depending on the finish products that get selected.

Here is an example of how scope development can drive the cost of a project:

Let's use the replacement of a 32 "x 60" fiberglass tub/shower combo as an example. Assume this tub replacement is part one part of a larger bath remodel. We could tear out that shower and replace it with a new 3-piece fiberglass tub/shower combo for let's say $3,500. The end result would be a brand new tub with new fixtures. Now let's change that to a tub with a tile surround. Now that $3,500 shower becomes a $6,500 – $8,000 tub/shower because we have now added labor and materials for tile prep. We have added tile and labor costs for the tile surround and the cost of tile can vary wildly depending on the materials, size, and design. Now let's knock it out of the park and turn or fiberglass tub shower into the spa-like experience you have desired for so long. Out comes the old tub and in goes a shower pan and full waterproof tile backer kit. Instead of a single mixing valve and shower head, you decide you want to also add a handheld shower and a rain shower head. You also want the option to control each of those independently. You have selected a nice stone tile for the floor and walls as well as a 6" mosaic band running horizontally on the walls. Throw in a niche or two and a 3/8" glass shower door and the $3500 fiberglass tub/shower has become a $12,000 – $14,000 walk-in shower.

Design-build provides benefits for both owners and builders. Owners experience faster delivery, cost savings and better quality than other contracting methods. Dealing with a single entity decreases an owner's administrative burden and allows them to focus on the project, rather than managing separate contracts. The approach also reduces the circle of responsibility.
The builder has more time to fully grasp a project as they are involved from the very beginning. Thinking through design details and how they will impact the existing house, in the case of an addition, helps prevent additional costs from popping up while the project is underway. Our whole team of employees, subs and material suppliers have the opportunity to give their input much earlier too. This can prevent scheduling conflicts and ensure all of the materials will be available when we need them.


Now that all of the design work is done and all of the finish materials are selected, and all of the subcontractors have given their input and quotes for the project, it is time to build it for the last two weeks of the process of your project. The process that has led to this point has eliminated as much of the guesswork and unknowns as possible, which in turn leads to a smooth construction process.

We now officially assign the project to one of our lead carpenters. At this point, the lead most likely has had some input into the project but will now be fully briefed. We will review the scope of work and the plans in our office. The lead will have plenty of time to review all of the paperwork, which includes material orders and subcontractor's quotes, and the opportunity to ask any questions. We usually do a walkthrough of the project with the homeowners prior to starting any work.

We use BuilderTrend, a cloud-based project management software suite, as a tool to help manage the construction process. All of the construction plans and documents are loaded into it, and our lead carpenter has access to it from the field. We build out a project calendar and share it with all parties involved. All of the subcontractors have access to any documents that are pertinent to them, as well as access to the calendar. If any changes occur, they are instantly notified. If there is a need for a change order, we can prepare them in the field and send them to the client. The client then can approve and sign them from any computer, tablet, or smartphone.
Check out our construction management process that we use on all of our projects!
---
For Oxland it's about building something that will stand for generations. It's about being there for the customer, too. A bathroom, a kitchen, a new floor, a window installation — or even a minor repair — Oxland customers know they will do it all, and they will do it right.
Our Building and Remodeling Service Area
We remodel and build homes in Southern Maine, Northern Massachusetts and Rockingham County, New Hampshire. Our service area includes but is not limited to:
Exter
Stratham
Portsmouth
Rye Beach
New Castle
Hampton
In fact, you've probably seen our trucks throughout our service area. Whether you want to renovate the kitchen in your house, build a custom home on your lot, or add a few bedrooms to your vacation cottage, we'll help you consider all the possibilities.
Not sure if your town is in our service area? Reach out to us here and we'll let you know if we remodel or build in your New England town.