Basement Finishing and Attic Conversion Services for Portsmouth and Seacoast Homes
Are you running out of room in your house? Moving isn't the only solution. In fact, your current home probably has plenty of untapped space in the attic or basement that could be converted into living areas.

Why Seacoast Homeowners Are Finishing Their Basements
Like most homeowners, you probably wish you could change a few things about your home. Wouldn't it be nice if your house had enough room for an extra bedroom or home theater or the kids had a place for their toys and sports equipment? When your yard is too small for an addition, a basement remodel offers an excellent way to expand your home.
Many homes in the Portsmouth and Seacoast, NH, area have sizable basements that offer space for multiple rooms or one big open-plan area if you prefer. Granted, your basement may not be particularly attractive – at least right now. No matter its current state, we can help you turn the lower level of your home into a peaceful retreat, a gathering place for your friends and family, or anything in between.
Popular Basement Finishing Ideas for NH and Portsmouth Homes
The possibilities are endless when you take advantage of the extra space on your lower level. Imagine working out in your own fully equipped home gym or watching a movie in style in your comfortable home theater. Finishing your basement could give you the space you need!
Primary bedroom suite

Guest room

Playroom

Family room

Game room

Extra bathroom

Second kitchen

Artist's studio

Bar

Home cinema

Sports room

Hobby room

Office

Sauna

Workshop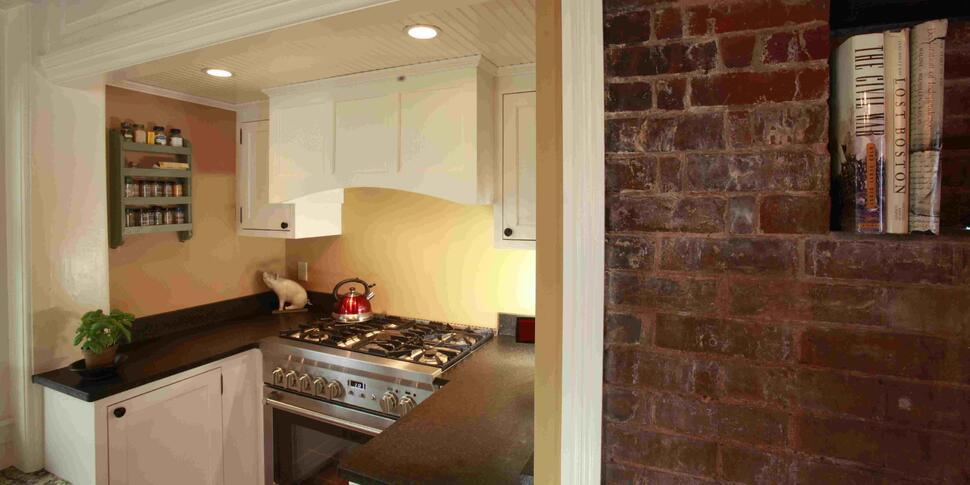 How Much Will It Cost to Finish Your Basement in 2022?
In the Portsmouth, NH area, basement finishing and basic interior remodeling average around $125 per square foot. Renovation costs may be even higher for upscale basement remodels in New Hampshire. The amount you'll actually pay depends on the current condition of your basement, your personal style tastes and your plans for the space.
Basement Remodel Cost Factors
If your basement is damp and drafty, we'll need to find the source of the moisture and correct the problem before we finish the space. This might include re-grading the soil around your home, adding a waterproof vapor barrier, installing a French drain and sump pump, and treating moldy areas.
Do you want to add a wet bar, kitchen, or bathroom to your basement? Electricity and plumbing costs will raise your total costs, as will increasing the size of windows, adding a patio door to create a walk-out basement, and extending the heating, venting, and air-conditioning system (HVAC).
Generally, open-plan finished basements cost a little less than renovations that include dividing the space into several rooms. If you can are wanting to add a half bath in your basement, it will typically increase the cost by around $30,000.
"We recently priced a basement in New Hampshire that had a 1/2 bath, LVP flooring, a drop ceiling, independent heating and cooling zone, new finished hardwood stairs and a few other minor add-ons. The basement area was 1100 square feet and it came out to around $137,000. If you upgrade to a full bath with tile shower, custom built-ins, and hardwood floors, your basement remodel cost could hit $175K easily."

-Brad Sawler, Oxland Builders
Portsmouth Attic Conversion Services
Do you only use your attic to store out-of-season clothing and holiday decorations? Why not take advantage of the space to improve your home's livability? In just a few months, you could curl up with a good book and a steaming cup of coffee in your new den or catch up on work in your comfortable attic office.
Attic Conversion and Remodeling Ideas
The attic is the ideal place to create bedrooms for you, your children, or your guests. Depending on the amount of space available, you could add a luxurious bathroom or create a cozy bedroom seating area with a bird's eye view of your backyard. Height can be a concern in homes in the Portsmouth and Seacoast areas. If your attic isn't high enough for a bedroom, a playroom for the kids may be a better option.
Ideas for Attics:
· Sewing room
· Library
· Exercise room/yoga studio
· Study
· TV room
· Gaming room
· Art Studio
Attic Conversion Costs in NH and the Seacoast Region
Wondering how much you'll spend to convert your attic? In the New England area, attic conversion starts around $40,000 but can get as high as $150k+ due to potential structural complexities, the size of your desired space, and the level of finishes you choose.
You'll spend more if you need to reinforce or replace the floor joists or rafters, add plumbing and electrical lines, or install new stairs, windows, or skylights. Attics tend to be cold in the winter and hot in the summer. Extending your HVAC system will increase your budget but is a must if you plan to use the attic year-round.
The quality of the finishes and products used in your attic conversion will also affect the cost. For example, you'll pay more if your attic conversion includes inlaid hardwood floors or an oversized, luxurious steam shower.
Finding the right company to complete your attic or basement renovation is the most important step in the remodeling process. Luckily, the Oxland Builders' design-build team has plenty of experience with finished basements and attic conversions in the Portsmouth and Seacoast, NH, areas. If you're considering improving your home with an attic or basement remodel, let us know what you.