Building Custom Kitchens in the New Hampshire Seacoast Region
Have you been feeling lately that your kitchen needs a little something extra? Maybe it has an inefficient layout or is lacking space. Whatever your situation, a custom kitchen remodel is an option worth considering.

While having your kitchen remodeled may seem daunting, our team of experts at Oxland Builders makes the process simple and affordable. We've designed, built, and renovated kitchens, and we know what it takes to transform your kitchen into a spectacular, functional space.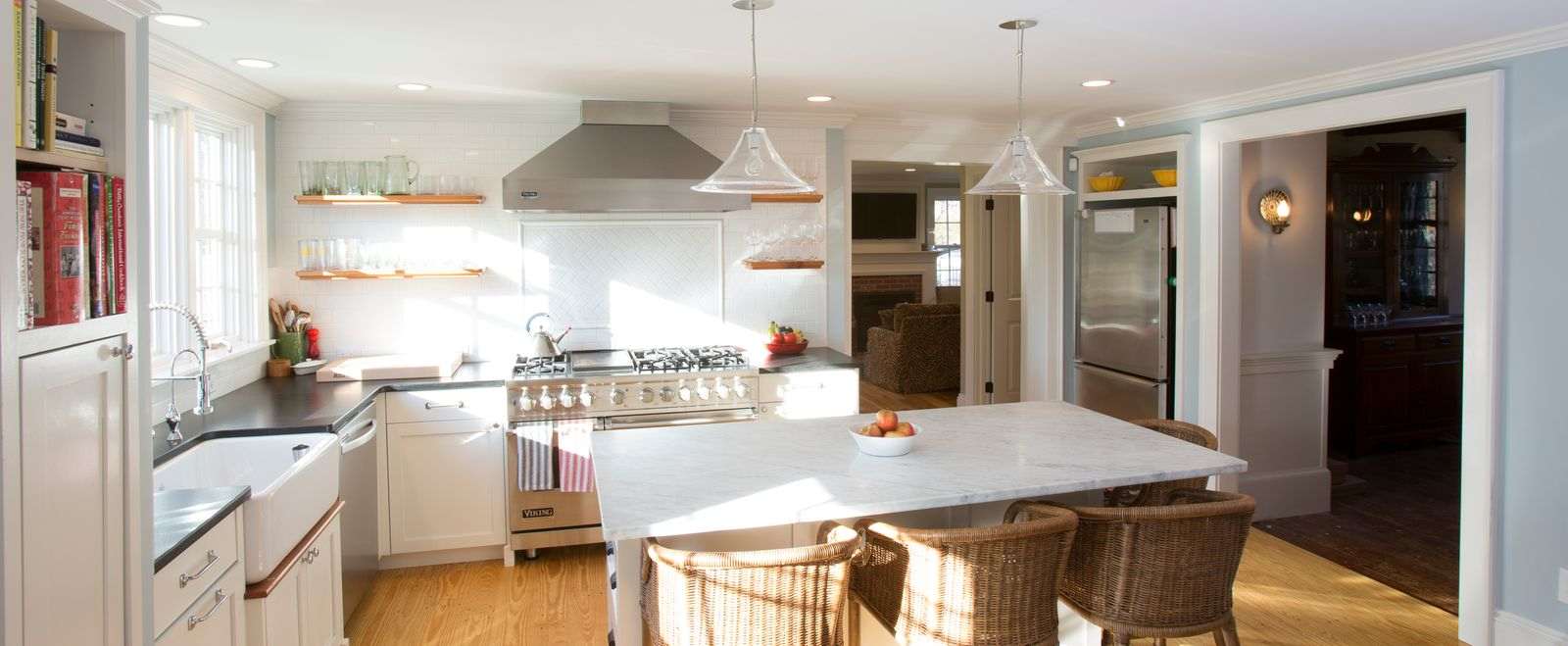 Design Build Kitchen Remodeling Services In New Hampshire
We offer kitchen redesigns and renovation services throughout the New Hampshire Seacoast, including the cities of Hampton and Portsmouth. Our licensed team of custom cabinet makers, designers, and carpenters ensures that you experience both quality and efficiency in every aspect of your kitchen remodel.
When it comes to redesigning your kitchen, you deserve to know what you're getting before construction begins. We provide design-build services in-house, meaning you'll work directly with our staff kitchen designers. We'll help assess your needs, budget, and layout, working with you to create the best possible kitchen redesign.
How to Prepare for a Major Kitchen Remodeling Project
Although we'll do everything we can to make your renovation as stress-free as possible, a major kitchen remodel is bound to disrupt your life. These tips will help you survive your renovation:
Find Space for a Temporary Kitchen: Since your kitchen won't be usable for weeks or months, you may want to rely on a temporary kitchen in the meantime. Your temporary kitchen doesn't have to be fancy. The garage, basement or a corner of the dining room may be the perfect space for your new kitchen. As long as you have space for a small refrigerator, microwave oven, coffee maker, hot plate, and toaster, you'll have the tools you need to make nutritious breakfasts, lunches, and dinners for your family. Don't forget about your grill. If you're tired of microwaved meals, grilling chicken breasts, steaks, burgers, and vegetables will add variety to your meals.
Create Do-It-Yourself Counters: A piece of plywood placed over sawhorses or an old dresser make excellent temporary counters. Dressers also offer space to store food, pots, pans, utensils, and cleaning supplies.
Figure Out Where You'll Wash Dishes: A bathroom sink or bathtub or laundry sink may become your temporary dishwashing spot. If you have room in the basement next to your laundry sink, the basement may the ideal spot for your temporary kitchen. If there are no options indoors, consider washing dishes outdoors with a hose and dish basin.
Choose the Ideal Time for Your Renovation: Spring or summer renovations may make the most sense if you'll be cooking or cleaning outside. Of course, if you're used to grilling long past the summer season, a fall or winter remodel probably won't faze you.
Plan Ahead: Cereal, sandwiches, and microwave dinners don't have to be the only options if you're renovating your New England kitchen. A few weeks before construction starts, spend a weekend cooking and freezing your family's favorite meals. Throughout the construction process, you'll be able to enjoy home-cooked meals despite the lack of a full kitchen.
Use Disposable Plates and Cups: Throwing away plates, cups, and silverware after you're through eating, reduces the amount of time you'll spend washing dishes.

While disposable items may not be the most environmentally friendly choice

, compostable options do exist and you'll only be using these items for a short time.
Bookmark Take-Out Menus: Take-out food expands your meal options and offers an excellent solution if you're just too tired to manage a meal in your makeshift kitchen.
Relocate: If you're remodeling several rooms in your home in addition to your kitchen, it may make sense to move out of your house until your remodel is complete.
Kitchen Remodeling Trends
Kitchen remodeling trends are great to get ideas from, however, after a few years, you may not be in love with these choices. That's why it's important to think about trends that you'll love in the future as well. Here are some top remodeling trends that will look great in the future!
Double Kitchen Island

Statement Range Hoods

Open Shelving and Glass Front Cabinets

Marble Finishes

Skylights,

Ceiling

Designs and Wood Beams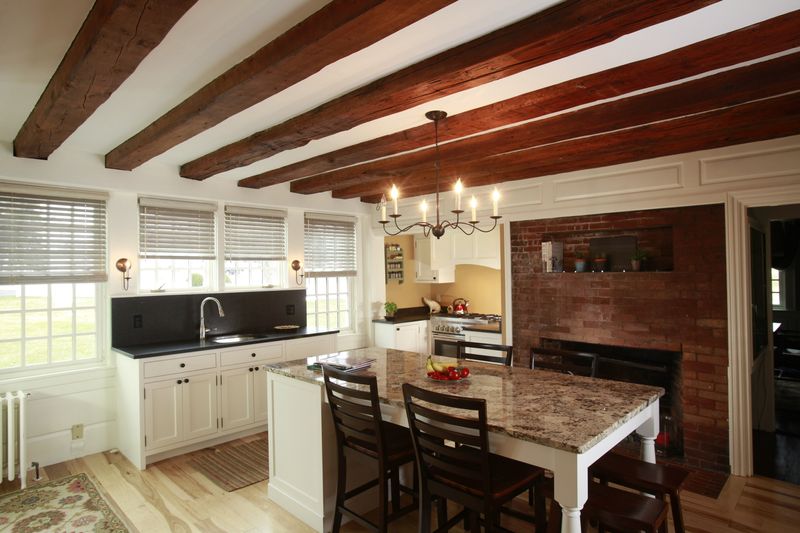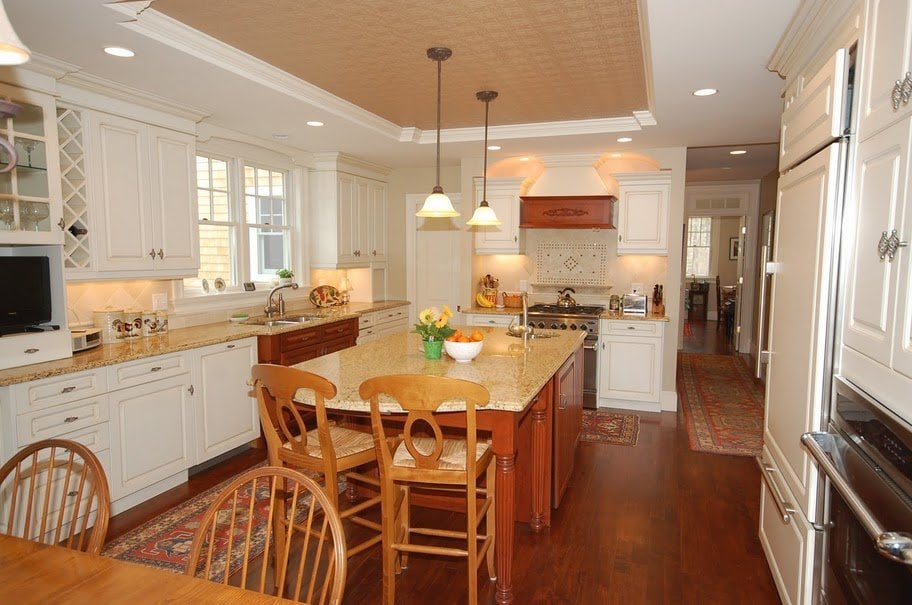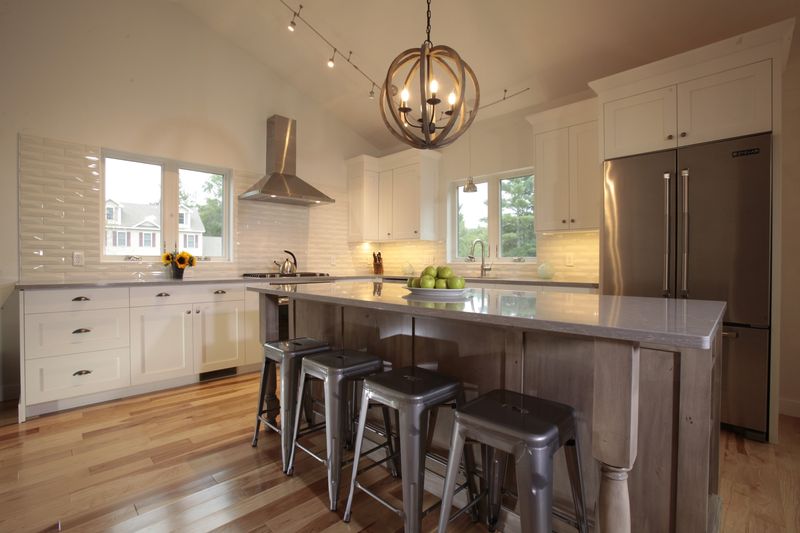 Looking for Licensed Kitchen Remodelers Near Portsmouth?
Our staff has undergone extensive training to obtain contracting licenses. We pride ourselves on seeking out ongoing training in the building industry. This provides our team with an ever-expanding knowledge base they can apply to any given project. Contact us today for a consultation!
Our Building and Remodeling Service Area
We remodel and build homes in Southern Maine, Northern Massachusetts and Rockingham County, New Hampshire. Our service area includes but is not limited to:
Exter
Stratham
Portsmouth
Rye Beach
New Castle
Hampton
In fact, you've probably seen our trucks throughout our service area. Whether you want to renovate the kitchen in your house, build a custom home on your lot, or add a few bedrooms to your vacation cottage, we'll help you consider all the possibilities.
Not sure if your town is in our service area? Reach out to us here and we'll let you know if we remodel or build in your New England town.