Job Opportunities
Friendly coworkers, exciting projects, and a chance to learn and grow make Oxland Builders the ideal place to use your carpentry skills. Our design-build firm offers building and remodeling services to customers in Seacoast New Hampshire, Northern Massachusetts, and Southern Maine.
Our company wouldn't exist without our talented carpenters. They're a highly skilled group that prides themselves on quality workmanship, a strong work ethic, honesty, and a commitment to customer service.
We believe coming to work should be a fun, positive experience. Respect for our team and clients is the guiding principle of our firm's philosophy. We value kindness and offer a supportive work environment that provides ample opportunity to learn new skills and techniques. Want to know more about what it's like working for Oxland Builders?

Skills You'll Need to Work for Seacoast New Hampshire's Premier Design-Build Firm
As an Oxland carpenter, you'll need:
Construction Knowledge: Our carpenters must have experience with residential construction and remodeling techniques. (If you're an apprentice, you'll need basic carpentry skills and will learn construction and renovation techniques on the job.)
Familiarity with New England Soil and Climate: Rocky or sandy soil, erosion, wind, and salt air make building in New England a little challenging at times. As an Oxland carpenter, you'll work throughout our service area and will need to understand how these conditions can affect building materials and construction practices and techniques.
Problem-Solving Abilities: Whether you're renovating a beach home, remodeling a four-square in Portsmouth, or building a new home on a rural lot, you might encounter a few unexpected problems or setbacks. Our carpenters must be able to find creative solutions for any issues during the design or building phases.
Good Communication Skills: As a member of the Oxland Builders team, you'll work with other staff members and supervisors daily and interact with customers. Good listening skills, a positive attitude, respect for other viewpoints, and the ability to explain processes and issues clearly are essential.
An Open Mind: We're constantly exploring more efficient building practices and searching for products that add value for our clients. Our carpenters are open-minded and always willing to try a new technique, process, or tool.
The Oxland Builders Career Path
Our carpentry career path offers opportunities to grow and advance within the company. Carpenter apprentices become full-fledged carpenters as their skills develop, while carpenters can be promoted to lead carpenters. Lead carpenters not only supervise other carpenters but are involved in budgeting, customer relations, production reporting, and conflict resolution.
After working as a lead carpenter, you might be promoted to project manager. In addition to managing timelines and budgets, project managers prepare job and staff schedules, ensure that quality standards are met, troubleshoot and resolve problems, manage change orders, coordinate subcontractors, and act as customer liaisons.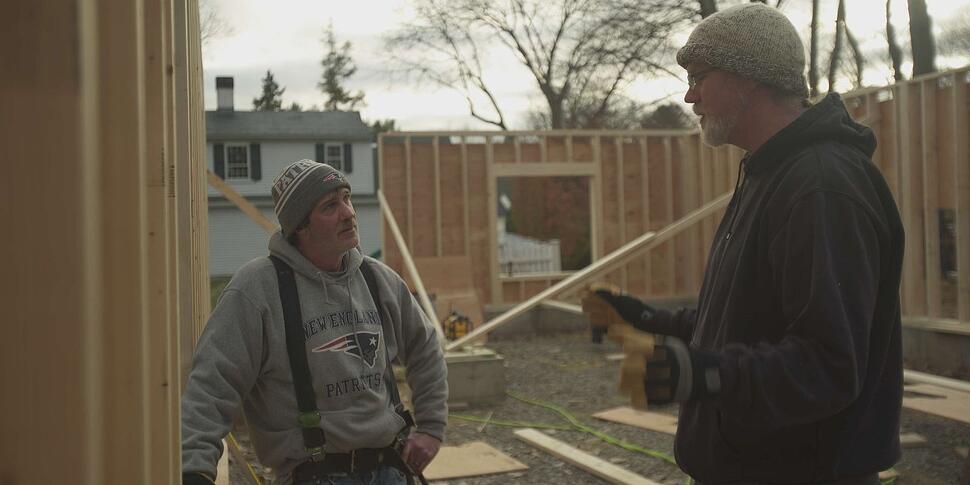 Why Working at Oxland Builders Just May Be the Best Decision You'll Ever Make
Periodic unemployment is one of the downsides of carpentry jobs. When you never know when or where you'll work next, it's hard to make plans for the future. If you're tired of guessing when you'll see a paycheck again, get in touch with us. Oxland Builders offers steady, year-round work and permanent carpentry positions.
Our carpentry team welcomes new employees and provides support and mentorship that will help you improve your skills and knowledge.
As an Oxland Builders staff carpenter, you enjoy these advantages:
Earned time off, including an annual two-week paid vacation
Paid holidays
Health insurance (50% contribution)
Company tools
A positive, supportive work environment that encourages collaboration
Opportunity for overtime work
Ongoing training and certifications
Company vehicle for lead carpenters
Inquire about a career with Oxland!
At Oxland Builders, we recognize that an important part of every project we complete is the process. And our CORE VALUES guide our team members throughout the entire process—from our initial meeting with clients, to the design, to the final build. This ensures that we meet and our clients' expectations and provides a positive work environment where every team member is a valued, contributing member.